STUB
The following article, Euclid, is a stub. You may help The Demon's Light Wiki by expanding Euclid.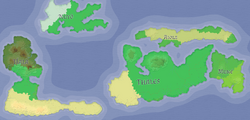 Euclid is a planet and the main setting of The Demon's Light. It consists of five distinct continents surrounded by an ocean. The regions are split into distinct landmarks known as Nuyö, Hala, Aiola, Muné, and Thales. It was created by the god Xeren.
Regions
The regions of Euclid consist of the five continents and the cities across them.
Continents
Cities
Countries
Weather
The weather on this planet varies depending on what continent/region one is in.
Lifeforms
There are various native lifeforms that live on Euclid, most notably humans. Other lifeforms consist of the angel and demon races. The different races do not often get along.
Trivia